Top Web and Graphic Design Trends that will dominate in 2018
[ad_1]

Every year a designer sees a new design trend sprouting up. Sometimes these trends last for a few days, while sometimes they rule the design world for years. While these web and graphic design trends keep on changing, it keeps designers on their toes and gives them a lot of learning opportunity, at times they become too hectic for the designers to keep track of things. As such, they miss some vital points when designing for themselves or some clients. Now, even for a business owner, it's important that they know the latest trend in the designing world so as to make that perfect website, marketing material etc. to grab the audience. There were several trends in 2017 that added to the making of more interactive and user-friendly websites and we are sure that these trends would be there too in 2018.
However, 2018 will be bringing some new web and graphic design trends as well. In this article, we would be covering the design trends that would rule 2018. Please, take a look.
One website, One Font-

While the usual trend has been to use 2-3 fonts on a website,  so as to maintain the variations. We would be seeing a single font use throughout pages in the year 2018. The variation would be in the use of color and the font size. One can clearly see how effectively

Uber

has used one font in its entire website. By changing the color and font size, they have made sure that the audience does not get bored and the content does not look monotonous.



Image Source:www.thenoiselab.es
Bright and Bold Color–

We will be seeing the use of bright colors in websites as well as other graphic design elements. Designers will be using colors that can catch instant attention and bring out a certain feeling in the target customers. Even in the logo design world, the designers are trying to use bright colors when designing a logo.





Not only this, we will also see a greater use of gradients in color. By varying the color tone, designers would like to target the audience attention to a specific part of the website. Duotone too will be coming in picture with its usage in designs and logos and will emerge as a great helping hand for those who are creative and like to create logo designs on their own using

free logo maker tools

. A duotone is created when one contrasting color is put on top of the other. Spotify is credited with the resurgence of duotone in the digital world, which previously was largely associated with the print media.



Authentic Photos-

Stock photos are rarely able to catch the attention or develop trust among its target audience. Therefore, more and more website designs are including high-quality original photography on their websites. While original photography was in trend 15-years back, somehow it lost its charm. But, it's back and we think it would rule the year 2018.


When using authentic photos for your website make sure that it appeals to the users and tells a story. Also, do make sure that the file size of an image is kept as low as possible.


Image Source:www.companiesinmumbai.onlinekhareedle.com
Bold Typography-

To emphasize important points, designers will be using bold typography. The simple reason being that the attention span of users is getting less by each passing day. As such it becomes extremely important that your user receives your message in that little time slot.


Take for example social media sites, where people hardly read a text, the only way one can easily contact the audience is images. Therefore, the designers try to use bold typography with the variation in the font to make the message effective.


Microinteraction-

Microinteraction is the word that you would have been hearing a lot these days! So what is microinteraction? One can easily say that these are animations that a website uses to communicate with its users. From the Facebook notification you get to the tinder swipe request, all of them are examples of micro-interactions.



Now, there are animations and GIFs that also have seen a rise in their usage across web design as well as graphic design elements and will be in the top list of web and graphic design trends as well. Not only are they light in size, but they also help to deliver the message in a concise form.

Cinemagraphs

, a refined version of GIFs are also gaining popularity. Cinemagraphs are basically frozen images with a small area showing a subtle movement. The images look intimidating and clearly draw the attention of the targeted users.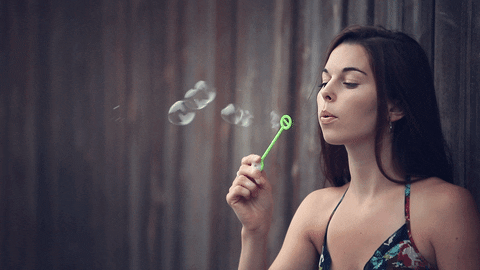 Image Source:www.giphy.com
Interactive Content-

Throughout 2017, we have been hearing that 'Content is the King' and it would remain so in the year 2018. Be it the use of blogs, having explainer videos, creating infographics or podcasts, we will be seeing a lot of work in this section.





There is one form that is quickly catching the attention of the user's and that is the content that asks people personal and challenging questions. Based on the answers, the website provides the users with personalized resources. This personalized experience has been seen to draw more customers as compared to other methods.
Box Designs-

The use of box design in a website is gaining prominence among the designers. In the box design, a website is divided into boxes that can be considered as separate section displaying information. Now, one of the major advantages that box design have is they can easily be mobile responsive. We have seen several sites using box designs, such as Apple which uses box design to give illustrative images.
Image Source:www.techwebspace.com
Final Thoughts
While the web and graphic design trends do change continuously, we believe that the above trends will rule the year 2018. As a designer or a business owner make sure that you pay heed to these trends when designing for your website, social media post or marketing materials. 
[ad_2]